Full Mouth Rehabilitation with Dental Implants and Fixed Dental Prostheses; SAVE 50%!
15,000 SATISFIED PATIENTS in 10 years of activity - Listen to their Direct Testimonials:
Affordable Dental Implants Save up to 70% of the average cost in the UK
How Much Do Dental Implants cost in Albania?
Dental Implant Cost in Albania
| | | |
| --- | --- | --- |
| The Procedure | Price at Gremi Clinic | Average price in UK |
| Single Tooth Implant | £500 | £1500 |
| Implant, Crown and Abutment | £835 | £2500 |
| All-on-6 solution | £4200-£8400 | £30,000 |
| All on 8 solution | £5600-£11200 | £40,000 |
Price and Inclusions
With Gremi Clinic you save up to 70% of the average cost in the UK. On the price of the intervention we include:
Free stay for 2 people (patient + companion) for the duration of the treatment.
FREE reception at the airport on arrival and transfer on departure.
FREE assistance in English in the clinic and in your free time for all the duration of your dental treatments.
 FREE mobile phone for you with an Albanian sim card.
A maxi-structure in the heart of Tirana is ready to welcome patients from all over Europe for a new dental tourism experience.
The new formula of successful dental tourism is in Tirana and is called Gremi Group: excellent dental care, maximum comfort and super affordable prices!
We are not the usual dental clinic but a maxi-structure equipped with all the comforts for the patient:
two dental clinics, a space dedicated to diagnostic imaging, an integrated laboratory to follow the entire prosthesis construction process, a digital design laboratory for the design of the final smile and, and the icing on the cake, also an aesthetic clinic to offer you and your companions a wellness path.
Not only! Our structure also consists of a restaurant, bar, ice cream shop and a new "boulangerie" ready to offer fresh and top-quality products every day.
The professional staff of Gremi also takes care of the patient's entire stay: from overnight accommodation, thanks to the numerous apartments owned by the Gremi Group, to transport, Gremi's cars are ready to welcome you to the airport and take you back to the terminal at the end of your stay.
Our staff is made up of more than one hundred people: dentists, maxillofacial surgeons, anesthetists, technicians and dental technicians, switchboard operators and assistants. The reception staff are fluent in all languages and are ready to assist you throughout the course of treatment. Hospitality and courtesy are always in the first place and our bar and the restaurant staff are prepared to make your stay pleasant and exclusive.
Gremi Clinic & Albania in CNN International
Dental implants are a modern dental technic which gives the patient a complete masticatory function and a new smile. By choosing to start your dental treatment in Albania, you will not only get a perfect smile but also save thousands of pounds.
Types of Dental Implant Options in Albania
Single Tooth Replacement
If you are missing just one tooth, a single implant will be placed in the area and topped with a multilayered zirconium crown. (100% zirconium, able to reflect the light making it the closest thing to the natural teeth, so there are no differences from the rest of your teeth)
Several Teeth Replacement
When several teeth are missing, two or more implants will be placed into your bone, on top of which a dental bridge will be fitted.
Full-Mouth Reconstruction
Full-mouth reconstruction procedures replace all the missing or damaged teeth in your mouth. We offer the All on 6 and the All on 8 Solutions without fake gums, just like your natural teeth.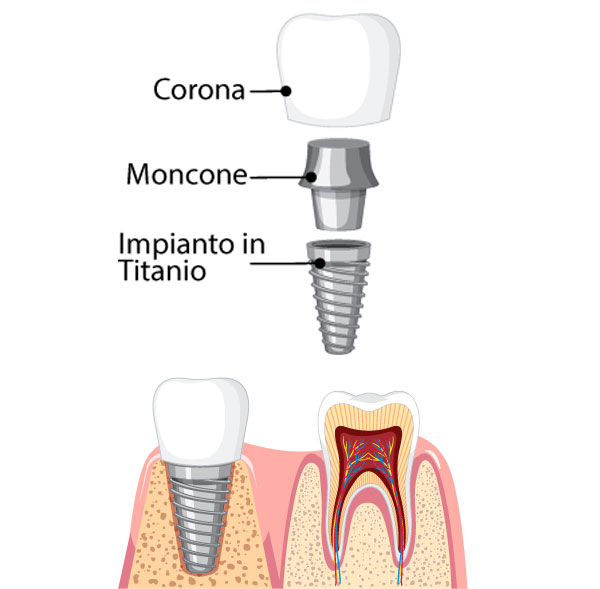 How we work
The dentist in Albania of Gremi Clinic will listen to your needs and in compliance with international dental protocols will prepare a personalized dental care plan for you to guarantee lasting well-being over time.
Medical excellence across the border: discover our staff:
[dentalcare_team_listing order="ASC" number="20″ layout="carousel" column="4″]
Travel Info
A passport is required to enter Albania.
Albania is located in the Southeastern of Europe, next to Greece and Italy.
Once you land at Tirana's International Airport, one of our drivers will be waiting for you.
The majority of people in Albania are able to communicate fluently in English.
The flight tickets are very affordable especially if you book prior hand.
Tirana has won the "European Youth Capital 2022" title and there are a lot of activities and projects going around. It is never a boring day in Tirana!
Language is never a barrier at Gremi Clinic. We speak your language!
It's pretty safe to travel around Albania.
FAQ
What is a dental implant?
A dental implant replaces the root of the tooth: it is therefore an artificial root, inserted in the mandible or jaw. It is usually a titanium screw or a titanium alloy, a biocompatible material that reduces inflammation and allergies in the oral cavity, it integrates perfectly with the bone and it resists to any pressure due to chewing.
What is a dental implant made of?
The dental implants are made of 3 parts:
The artificial root or screw: In reality by implant we mean the screw inserted in the mandibular bone, which replaces the missing natural root. It can be of various lengths, depending on the patient's anatomical needs. It can be made of titanium or zirconium.
A support structure: It is the element that connects the implant to the dental crown. One part is fixed inside the gingiva and the other part protrudes like a pin, on which the crown will be fixed.
The dental crown in zirconium: It is identical with the natural tooth, as much as you will not find any aesthetic differences.
How long does it take?
For a complete full mouth restoration two visits are needed.
The first visit the patient needs to be at our clinic for 5-7 working days during which a 3D CT scan is performed followed by a free checkup visit with our medical team. The moment the patient agrees to follow through with the treatment plan we start working immediately.  The implants are placed on the first visit.
On the second visit: the patient, returns in a period of 3-6 months to finish with the final part of the treatment. The patient is needed this time for 12 working days approximately.
What are the phases of dental implantology?
Here is the procedure that we perform to return the smile to our patients with a dental implant:
Diagnosis: during the first free visit our medical team will perform in-depth diagnostic and instrumental tests in order to guarantee a personalized treatment plan based on your real clinical needs and in line with your aesthetic and functional expectations.
Intervention: in this second phase we proceed to insert the implant into the bone. The operation is performed under local anesthesia.
Osseo integration: In this phase you have to wait a few months (3 to 6 months) until the dental implant integrates into the bone.
Final phase: finally the specialist will mount the superstructure to the implant, on which the dental crown will be fixed.
What are the advantages of dental implants?
Choosing the dental implants instead of relying on bridges has several advantages:
The dental implants are aesthetically identical to natural teeth
They are fixed permanently and safely, without any kind of adhesives.
They do not show problems for the teeth nearby
They are an extremely durable solution if you perform proper oral hygiene on a daily basis.
High success rates: since 2009 we have realized over 15,000 implantology intervention ensuring our patients a 98% success rate (in the remote hypothesis of implant failure we perform a new free intervention at our expense, reimbursing the flight expenses). Percentage that reaches 100% with computer guided implantology a painless technique without cuts that ensures the maximum precision thanks to an advanced software that allows the 3D virtual simulation of the intervention.
Stability: no mastication problems and no risk of artificial tooth mobility.
How long will dental implants last?
With proper oral hygiene, dental implants are set to last for a really long time, even a life time.
Do I need bone graft?
A 3D Scan allows us to distinguish if a bone graft is needed or not. The bone graft is needed on the patients with poor bone quality, especially where the teeth have been missing for a long period of time, or if the patient has been using dentures for a long time. We use an artificial bone biocompatible with the human body, all performed by our maxilla-facial surgeons who are specialized in the field.
Does it hurt?
No, thanks to conscious sedation a special type of anesthesia we use, the patient does not feel any type of pain or discomfort during the intervention and after the intervention part.
15,000 SATISFIED PATIENTS in 12 years of activity - Listen to their Direct Testimonials:
No form yet! You should add some...
Questo sito non fa parte del sito Facebook o Facebook Inc. Inoltre, questo sito NON è approvato da Facebook in alcun modo. FACEBOOK è un marchio registrato di FACEBOOK, Inc.